Digital Art
Tag Archives:
Digital Art
click on image to enlarge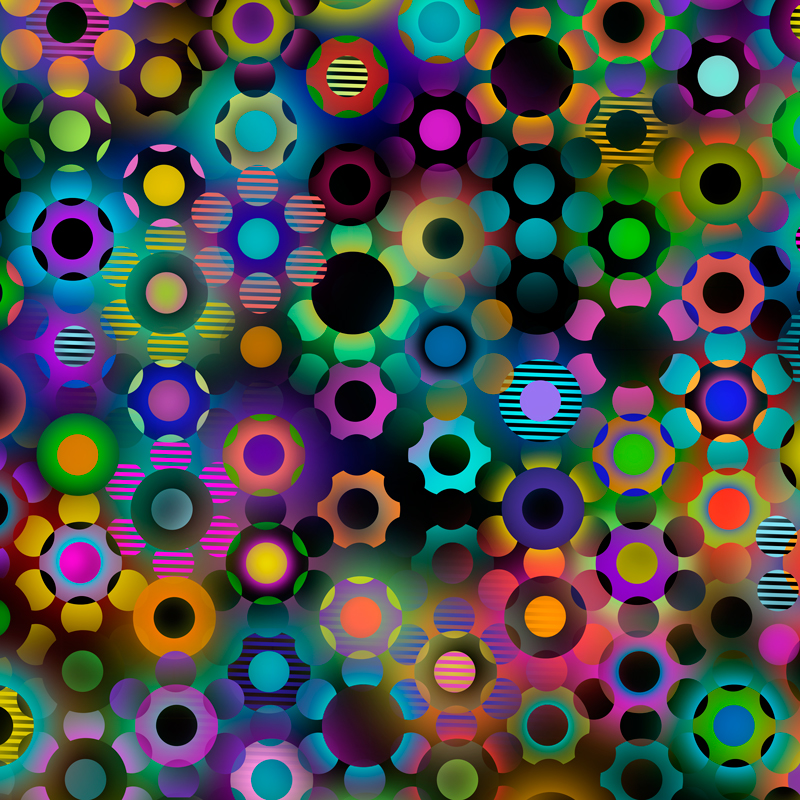 Middle of the Night in a Digital Dream, 2012
Epson GS Ultrachrome Print on Canvas, 54 x 54 inches, Edition of 3
I've entered the online competition Art Takes Miami which is part of Scope Art Fair in Miami. Please see the link below to my portfolio and if you like my work, please vote for my portfolio so that I may have a chance at winning the $2,500 People's Choice Award and inclusion in the 1,001 Artists Project at SCOPE Miami this December. There is also a share button if you want to share with others on Facebook, Twitter & Tumbler.


My circles come alive in this series of 20 radial spinning constructions distilled from a personal methodology of kinetic dynamism. Each Radial Reduction allows me to experience freedom and move kinetically through my art, much like the Sufi Whirling Dervishes whose spinning dances bring them closer to spiritual bliss.
The series comprises 20 different designs (view virtual catalog below to see enlarged views of them all). Each design is a Limited Edition of 50, Archival Digital Print on Canvas, 24 x 24 inches, ready to hang gallery wrap stretched. They are being offered for sale for $395 each with free shipping. Special discount for 3 at $995.
Radial Reductions Virtual Catalog
Click on "Expand" to View
I can't believe it's been almost seven years since my art was first written about. As I continue to archive and organize, I realized I was not taking full advantage of all the tools that have come online to archive my work. So with that in mind, I've created this virtual interactive publication. It catalogs what has appeared in print and online about me and my art  and self published work, from 2005 when I had my first solo exhibition, to the present. Each entry has an "eye" icon that links to the original online content. Among the newspapers and websites that have written about me are The Miami New Times, The Cleveland Plain Dealer, The Columbus Dispatch, Truthout.org, Art Digital Magazine, Seven Days Vermont, New York Hall of Science, Art & Sciences Collaborative, HOKlife.com, Voice of America, The Frost Art Museum and DisabledAndProductive.com.
This is an evolving publication and new entries will be added as new online content about my work is published. Click here to see publication.
Screenshot of Cover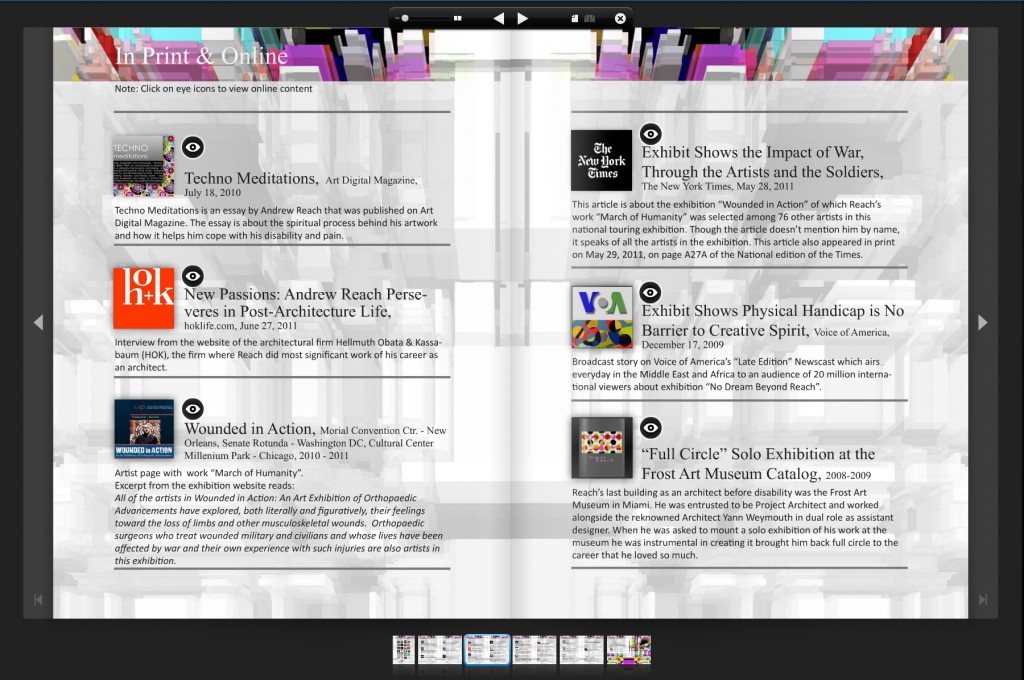 screenshot of pages 4-5
Eight pictures chronologically through time, take you on my journey of transformation from Architect to Artist through the healing power of art. read publication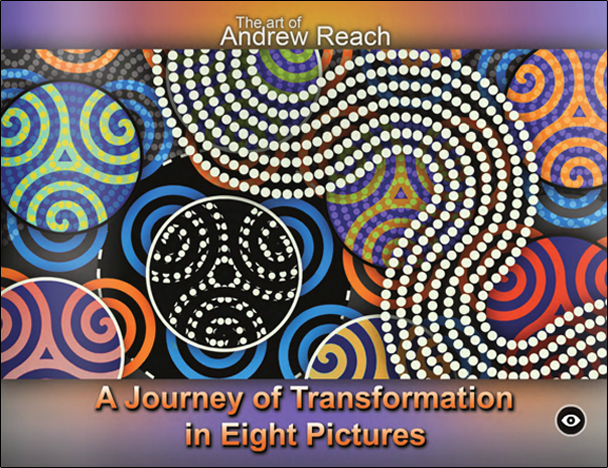 Cover

Sample Pages showing and describing the artwork
"Lost in a Place Where Pain Does Not Live"
Jarod Aronson is an inspiring artist with muscular dystrophy but his disability doesn't stop him from running his own business selling his humorous t-shirts featuring his original digital artwork created with Adobe Illustrator and Photoshop that conveys his unique sense of humor and point of view that is about living life to it's fullest. He first created art the traditional way drawing by hand with pencils and pens but as the disease progressed and he couldn't any longer, he began using digital technology, drawing with a mouse. Then, the ability to use a mouse wasn't possible until he figured out how to use a track ball. There's a great article, I highly recommend, that delves into more detail about his life and artistic process; Jared Aronson's Story – an Amazing Young Man with Duchenne Muscular Dystrophy on Disabled and Productive.
His website about page states:
Jared Aronson, the designer of all Madhouse Tees, was diagnosed with a form of muscular dystrophy at four-years-old. Though confined to a wheelchair and on a ventilator he continues to design and run Madhouse Tees. The passion Jared has for his company and product is fueled by his love for laughter and making others laugh too. Jared also wishes to educate the world about physical limitations by saying, "Just because you have a disability doesn't mean you don't have creativity and passion.
Check out Jared's tee shirts on his cool website www.madhousetees.com and pick up a few tees just in time for holiday gifts.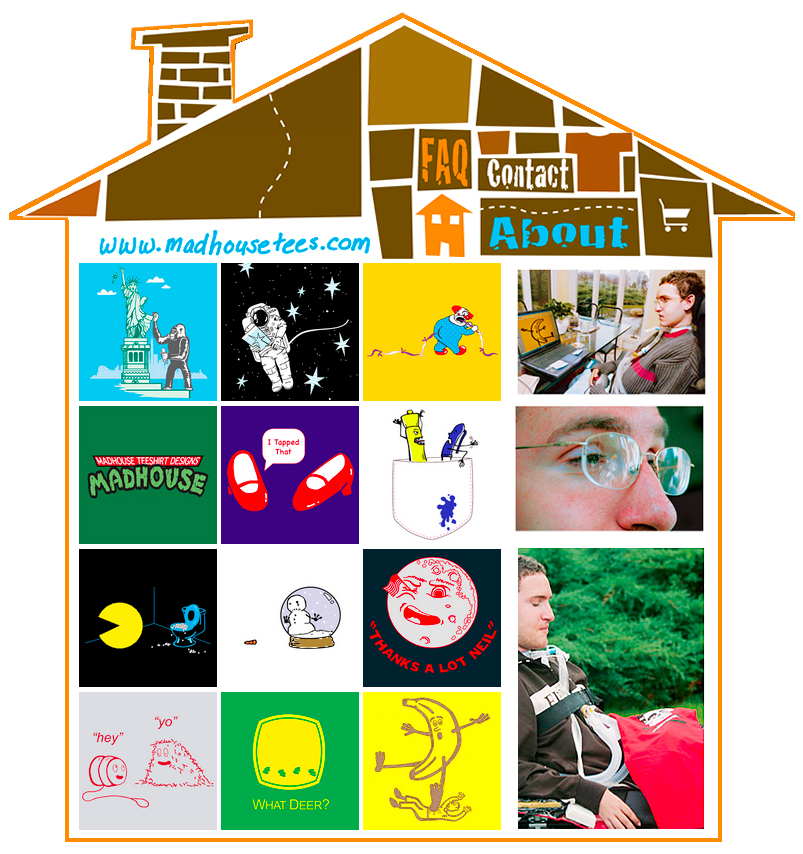 For those of you who have followed my art and my website, I thank you. And for those who have come to my site for the first time through this blog, I invite you to explore my art in my galleries and to read my info pages. I hope it offers some illumination to the wonders that digital art has given me and many others working in this relatively new medium.
For me, digital technology has been instrumental in helping me transition from being an Architect to an Artist. But it has also done much more. It has given me a second chance at gaining a new perspective and appreciation of life after a disability left me in a place where I thought my days of expressing myself creatively were over.
I've watched in wonder as my life partner Bruce Baumwoll, started his own blog, Edgemere – Far Rockaway Archives, and how it motivated him to dig into his own life history and of  his favorite place growing up as a child, Edgemere (Far Rockaway), Long Island. It started there but he has gone even further. All the way across the ocean to Warsaw Poland where he has discovered his rich heritage, to his eclectic interests including movie memorabilia and paper ephemera, with a wide variety of content, most notably his original videos.  And so, I enter the fray of the blogosphere through his inspiration.
I call my blog Reachesfar because that is what I hope it will help me to do. It will be about a wide variety of things I feel passionate about, including bringing awareness to the world of the healing arts, especially the role it has played in helping the disabled and showcasing artists using digital technology, moving the art form  forward. And of course traditional art is still a love of mine, and I'll be sharing the work of those artists that move me, as well.
So get ready to Take Off! Here we Go!